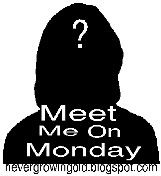 Here's the questions for this meme hosted by
Never Growing Old
to help our readers get to know us better so sometimes we'll post it on this blog, and sometimes on our book blog.
1.
Do you sleep with a night light on
?
No, sometimes I even pull the covers over my head!
2.
What do you drink with dinner
?
The V8 Fusion fruit/vegetable drink.
3.
Do you play the lottery? If so, how often?
Neither of us ever played it even once. We have entered office pools for the March Madness brackets and football (but not this season). I enjoy watching football on Sundays much more now that I don't lose my money on it.
4.
How often do you go to the grocery store
?
Once a week.
5.
Would you rather travel back in time 500 years or travel forward 500 years
?
Ahead, because I would miss the modern conveniences and technology terribly if I went back in time!
Here's a bonus: I'm a featured blogger this week over at
Naivaze
. Check it out to learn more about me.
Tweet This