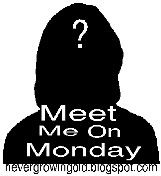 Here's the questions for this meme hosted by
Never Growing Old
to help our readers get to know us better so sometimes we'll post it on this blog, and sometimes on our other blog. Today, I put my answers here and Gerard's are over at
Grab A Book From Our Stack
since we each have some different answers on this one.
1.
Do your pants get hung on a hangar or folded?
My dress slacks are hung on a hanger but my jeans are rolled up in my drawer. By rolling them, they don't get creased.
2.
If you are stranded on an Island, what 3 things would you need to have with you (not including humans or electronic devices)?
Sleeping bag, matches, bottled water. Am I practical or what?
3.
Where is the farthest you have ever traveled to?
As a kid, I went to see Niagara Falls on the Canadian side but the farthest I've ever traveled as an adult would be to King's Island in Cincinnati, Ohio which was a 4-hour drive.
4.
Do you live in a house, trailer or apartment, etc.?
We live in a brick house on a quiet street.
5.
What is your most hated household chore?
Cleaning a toilet--fortunately for me, my husband does all our household chores.
Tweet This