Friday Fragments
is hosted my Half-Past Kissin' Time for bloggers to post a list of short things on their minds that aren't really enough for a whole post. Here we go:
Heart Attacks

According to last Friday's Free Kibble game, cat owners are 40% less likely to have heart attacks than non-cat owners (yet another good reason to adopt a cat!) I was surprised that percentage was so high. I wonder if you have two cats, if it would go up to 80%?


Fall Festival

We donated candy and now we are off today so we can do our Saturday "run-around" so can can help set up and run games at Parma Heights Baptist Church fall festival. Lots of kids come in from our community and I always enjoy seeing their costumes and chatting with the parents. It's a fun day with lost of high energy! If you are in the area, stop in anytime between 12:30 and 3:00. Related post from archives: Church's Fall Festival Brings Back Memories of Dad.

Gorgeous Day


On my day off on Wednesday, we had a perfect weather day here in Cleveland and I debated, should I go to the zoo or take Abby to the park? The zoo won and I had a wonderful time taking pictures of the beauty of fall and I joined Abby and Gerard on the evening walk before going to my Love and Respect class. It was one of those days I hated to see end, in spite of having to take out an hour to go for a bone density test. If it hadn't been for that though, I would have been stuck inside at work most of the day!

Cutest Post of the Week

I came across this cute photoshoot about cats and pumpkins over at Words, Words, Words called Naughtiness and Non-Cooperation that I hope you will check out after I spent about four hours trying to find it again to share it with you here. Out of desperation, I wrote a post asking for HELP!

Browsing History

Okay, I knew the tab was there but really never used it before. Kathy over at The Junk Drawer suggested I try it and just 20 minutes later, I found that post mentioned above. What a time-saver when you are trying to find something you read days before! Thanks, Kathy!
Yesterday, Gerard told me he wished he had a blog of his own. The problem is that it would be me doing all the posting for him and it would be another one for me to promote and maintain. That is why I welcome him to contribute here. It also helps me have something to post usually five times a week and provides an activity we can enjoy together. He had a lot on his mind this week so here are some more Fragments from my husband

:
No Ice Hockey

I really miss the Bruins playing hockey! The only bright side to this is that we are saving on our DirectTV bill.


Audio Books

I am listening to my first audio book in the car on my way to and from work. I love it! Audio books rock! Karen doesn't care for them. Do you use them?

Going Digital

NEWSWEEK magazine has decided to go all digital. Newspapers and magazines will soon be all gone. This is sad.

Laser Therapy

Our vet offers laser therapy for dogs that is supposed to help lessen the pain of arthritis. Has anyone tried it on their dog and do you think it helps?

Presidential Debates

Do you think all these presidential debates are really needed? I think most people will not be swayed by who won or lost the debate. Am I right? I don't bother watching at all, do you?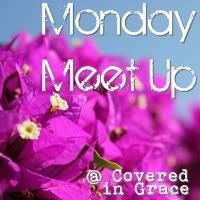 I chose this as my best post of the week for Monday Meet Up linky party.
Share this: